Post by Tifa Lockhart on Sept 12, 2010 20:56:02 GMT -5
(For starters, I had no clue this was a requirement of all of us or else this would have been up over four years ago. Made me feel...well out of place. Like Aer/Yuff, I SUCK eggs at bio's but I will attempt to create something. If nothing else, it'll be my show-n-tell. Don't like it? Go suck a choco's toe! Kidding, haha. Seriously tho, I hope it suffices)
=====================================
Name: Tifa Lockheart (alternate spelling: Lockhart)
Job(s): Bar Hostess / AVALANCHE member / Home maker/motherly figure to Denzel & Marlene Wallace
Alignment/Affiliation: AVALANCHE (although inactive at the moment)
Race: Human
Age:
15 (Crisis Core)
20 (Final Fantasy VII)
22 (Advent Children)
23 (Dirge of Cerberus)
25 (Currently)
Date of Birth: May 3rd
Height 5'5
Hometown: Nibelheim
Primary Weapon: Fists
Limit Break(s)- Beat Rush, Somersault, Waterkick, Meteodrive, Dolphin Blow, Meteor Strike & Final Heaven
Tifa's Typist Personal Favorites- Ice, Heal All, Shiva & especially Odin
Appearance (going off of AC) - She wears a white top with a black leather zip-up tank over it. Black knee shorts with a waist jacket/hood leaving her body free for physical fighting. She isn't much on jewelry however; A simple pair of pearl drop earrings & a silver wolf emblem ring is all that you'll find her wearing on a day-to-day basis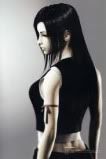 Alternate Attire (FF VII)
Tifa's long hair falls below her waist and is tied at the end in a distinctive dolphin-tail split. Tifa's hair is dark brown, but in some appearances looks black. Tifa's eyes are officially addressed as red, but they have also been depicted as brown in some appearances, and she wears white tear-drop earrings. She wears a sleeveless white tank shirt that shows her stomach with a black miniskirt and a pair of black suspenders connected to her belt. She wears fighting gloves that come up to her elbows, which have metal protecting pads, and she wears old boots. Her body is slim, belying her great physical strength.
Personality: Tifa is a shy character, which is perhaps best displayed by her last name, Lockhart. Tifa does not express her feelings often, and she often has trouble doing so. She has a strong motherly streak and helps take care of the other AVALANCHE members at her bar, and she also has no compunctions about using her strength to keep rambunctious patrons in line, if what other characters indicate is true. Tifa is also caring and helps whenever she can. She often comforts the other AVALANCHE members, and in Final Fantasy VII is often found spending time with Aeris Gainsborough when the party splits up, who is similarly caring and compassionate.
She is also close to Barret Wallace, the leader of AVALANCHE. On the Way to a Smile reveals that due to the Nibelheim Incident, Tifa bears a deep-seated hatred of Shinra and Sephiroth, and when the Lifestream emerged at the end of Final Fantasy VII, she metaphorically hoped it would absolve her sins, as she feels horribly guilty over the destruction she and AVALANCHE caused.
.
Brief History - Most noted as the girl Cloud Strife "grew up" with, Tifa resided for many years in a small quiet town, Nibelheim.When she was 8 years old, Tifa fell off of Mt. Nibel and slipped into a short-term coma. Her parents blamed Cloud, but he was unaware that Tifa was there and couldn't do anything to save her. As Cloud grew more and more obsessed with SOLDIER and with her parents still placing the blame, he left to join Shinra's army.
Like Cloud, Tifa found herself embroiled in the town¡¯s last, terrible night, when the SOLDIER Sephiroth went on an inexplicable rampage and burned Nibelheim to the ground, slaughtering its people in discriminately(most notable, Tifa's father).
Swearing revenge, Tifa chose to take on the great general only to substane terrible injuries as a result of Sephiroth¡¯s attack, and with no life left to speak of in Nibelheim, Tifa was taken to the city of Midgar, where she eventually recovered and made a new life for herself.
Soon afterward, Tifa became the proprietor of a small tavern, 7th Heaven, and eventually drifted into the orbit of Barrett Wallace¡¯s AVALANCHE group. To this day, she shares Barrett¡¯s personal grudge against Shinra & all that are affiliated
Side Note - Nomura and Nojima had a hard time creating the new Tifa and focused on developing the emotional backbone that her character is to the cast. They made sure to portray her as a modern woman who can function without her man, rather than a clingy one. When Tifa finally tells Cloud what's in her heart, the original scene had Tifa feeling a little guilty about being blunt. Nojima decided to cut it for time. The final portrayal makes Tifa a positive role model and female lead. As she was in Final Fantasy VII, on the outside Tifa is a hard worker and spends her time caring for everyone but herself. On the inside, she keeps the feelings of uneasiness towards Cloud locked up.
According to the Final Fantasy VII Ultimania Omega, Tifa was originally planned to be a supporting member of AVALANCHE rather than a field operative, and to be partly responsible for the group's formation which would have started in her bar. In a plot point cut from the final product, Tifa was intended to be attacked by Cloud and have a scar on her back from the assault. The circumstances for this are not stated, but Tifa would have had amnesia of the attack, implying this may have taken place during the Nibelheim Incident, or have been an altered version of her childhood injury for which Cloud was blamed.
Tifa's diary was also originally meant to be found in the game, in which she writes about her early relationship with Cloud. In it she names some of her friends from Nibelheim: "Wel", Dan", and "Meiday", all of whom asked her out to the water tower, just as Cloud did, showing her immense popularity in the town. She also mentions Cloud started to get into fights with the other kids by when he was eight years old, the same year her mother died.
In cut conversations, Tifa was to speak with Aerith over Cloud's strange behavior, explaining the events of Nibelheim's destruction and Zack's role there. Tifa would have shown Aerith the picture taken before the Nibelheim Incident, which she would have kept in a locket, as proof of this. Tifa was also to meet her old master Zangan again, at which point he would teach her the "Final Heaven" technique, as opposed to learning it from a letter from Zangan in the final product. She would also have given Cloud mouth-to-mouth resuscitation in Mideel to revive him after going through his subconscious.
The original plans for Cloud and Tifa's moment under the Highwind were far more suggestive than in the final product. Following a fade-out scene, Cloud was to walk out of the chocobo stable on board the Highwind, followed by Tifa who would check around as she left. This idea was rejected for being too "extreme", and a less risqu¨¦ "toned down" version of the scene replaced it.
Tifa's job class was originally listed as "Shooter (Martial Artist)".
Etymology
Final Fantasy VII 10th Anniversary Ultimania states that "Tifa" is a shortened version of the name Tiffany. In Japanese, Tiffany is written as ¥Æ¥£¥Õ¥¡¥Ë©` - the same way that Tifa is spelled, only with '-ni' at the end. Tiffany in turn comes from a Greek word that means "manifestation of God". Despite this, Tifa's name is pronounced with a long "e" (Tee-fa) rather than a short "i", as Tiffany is pronounced. This is because the short "i" sound does not exist in the Japanese language, and this got carried over to English adaptations of the Compilation. Tifa's last name, Lockhart, might be a reference to Tifa's hiding away her feelings for Cloud, "locking" them within her heart, or to her role in unlocking Cloud's psyche later in the game.