Post by argento on Oct 4, 2010 23:31:54 GMT -5
Name:
Argento
Alignment/Affiliation:
Ex-Soldier, Deepground soldier/Tsviet, currently a Weapons shop owner.
Age:
36
Race:
Caucasian human?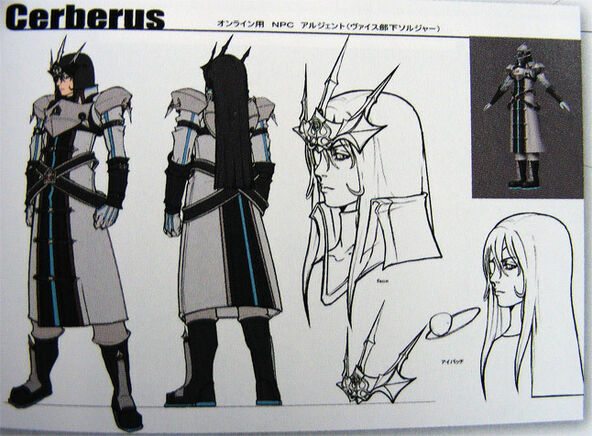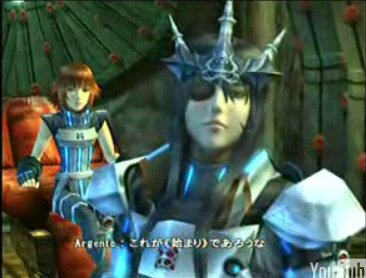 Appearance:
Most distinctive of her features is the black eye patch over her right eye. However her left eye is an eerie green color probably due to exposure to mako. Her hair is nothing but a torrent of darkness that trails down to her waist, with shaggy ends wrapping around her face. She is of no small build, being well toned and able to wield a broad sword.
She no longer dawns the clothing of Deepground. Final freed and able to roam as she pleases, she instead dawns more plain clothing. She wears baggy black cargo pants, that are shoved into knee-high black leather boots, that have silver designs on the side. She wears a black tank top underneath a white dress shirt which is only buttoned half way up. On top of that, she wears a black military double breasted trench coat.
Personality:
Calm and collected, she is one to watch and observe. This does not mean she is one to run from a fight, only that she avoids unnecessary ones at best. She follows directions as told, but does have a distaste when there is doubt in her abilities. She hates being issued lowly orders.
She, in return, has no issue being a reservoir of information. She is good at issuing orders, and seeing the inner potentials of most people. She believes that there is strength in numbers, for every weakness there is a strength inside a person. After all, even the colored Tsviets looked to her for guidance and her wisdom.
Abilities:
Deathblow materia:
standard equipped on Soldier blades, puts the chance of hitting with a critical.
Sense materia:
Gauges enemy level and skills.
enemy skill materia:
Big Guard:Adds [Barrier/MBarrier/Haste] to every ally
White wind: Restores HP and status to every ally
Pandora's box: Big damage on all opponents, ignores defense
Shadow Flare: Big non-elemental damage on any one opponent
Weapons:
A Soldier broadsword, and her eloquent words. Clairvoyance.
Clairvoyance/Remote Viewing:
Weakness:
Clairvoyance can only be used only with the assistance of another person guiding her through the viewing. She cannot accurately view on her own. On top of that the side effects can have her in almost a drunken state afterward, or fighting for control of her own mind. Those without someone to guide them can lose their mind and have a form of self induced 'MAKO poisoning' in which they lose their mind. Other side effects over a prolonged use can result in headaches, nosebleeds, and even unconsciousness. The inability to wake up properly from sleeping, because the dreams are so real that she forgets what reality is, and think she is 'awake' in their dreams when in truth she is still in her dream.
Strength:
She can see distant locations and targets during the sessions. Sometimes has random visions she cannot explain. These random visions can be from never really be disconnected from the LifeStream's mass consciousness. However she usually does not know how to interpret such things.
History/Background:
SOLDIER - a place for best to be protectors and enforcers.
At eighteen, Argento left her home to join in the fight for the righteous cause of ShinRa. During her intense training session within ShinRa's military department, she showed herself to be an exceptional tactician among the youths who were applying for SOLDIER. Cunning and coy, she soon rose in ranks as a skilled tactician. Being well adept in exploiting the strengths and weaknesses of other SOLDIERS, Argento quickly became a commander of a Second Class soldier troupe. However, she never progressed past the second class. Due to Shinra's war against Wutai, her time within SOLDER was short lived. She was critically injured during the war, which resulted in the loss of her right eye. How it happened, exactly, is enshrouded in mystery and is still rumor to this day.
After Argento was injured, she was sent to the Deep Ground Medical Faculty for treatment. Therein, she was 'reevaluated' for her fitness, and seen as unfit for future use as a SOLDIER in the field. Argento argued that she was just as capable with one eye as she was with two eyes. However, instead of being reinstated within SOLDIER, Argento was sent to Deep Ground's medical research facility to undergo a new kind of experimental training. From then on, Deep Ground became her new 'sanctuary'.
There was a team of scientists within Deep Ground that were charged with the task of creating a unit of Artificial Ancients through the use of extreme MAKO exposure and mind-altering drugs. Specifically, they were working toward creating humans that could, like the Ancients, communicate with the planet. The project was experimental, at best. Many lives were lost during the testing process, and those that survived tended to lose their minds. Their attempt at creating Artificial Ancients turned out to be, overall, a failure. However, the experimentation was not completely in vain. From the death of one failed project came the birth of a new, unexpected, line of research—clairvoyance. Although they were not able to create a human that could communicate with the planet, the scientists discovered that some subjects displayed the ability to obtain information from distant locations and across time.
This line of science divided into two groups, one that continued experimentation with drugs while the other experiments used a controlled case. Argento was a subject within the control case that used no base line drugs or MAKO radiation. The control case did not receive lots of funding because it was a psuedo-science.
The theory behind the control group was if a person was completely desensitized, where would their mind turn to get stimulation? Someone suggested that the mind is never fully detached from the Lifestream that one originated from. Without anything to distract the mind, the mind would turn to the mass of consciousness - the LifeStream - for stimulation.
Therefore, they renamed the control project: "Scientific Remote Viewing."
Within this new project, the scientists developed a series of tests to locate candidates for this new project. They looked for Soldiers with exceptional fortitude and subjected them to a regimen of gulling tests. Only those with above average performance, and deemed 'sane', passed these tests. The SOLDIERS who were admitted into the SRV project were isolated from society. They could not watch television, listen to the radio, use the world wide network, talk on the phone, or even talk to each other. All incoming and outgoing communication that was allowed was censored by the scientists in order to protect Deep Ground's secrets.
Argento became one of their leading subjects within this project.
During her "Scientific Remote Viewing" sessions, Argento would be placed within a controlled environment. She would be placed within a gray room with a 'dentist' chair rigged to hold a swivel desk. Once she was comfortable, the scientists placed half a pingpong ball over each eye to cut out more of her senses. Static was played in the back ground to cut down on any noise distractions. A pen and pad of paper was placed on the desk, and a scientist would then 'guide' Argento with a series of targeted questions in order to gain the information they wanted. It was a tricky process, for the scientists discovered that they would need to describe the target without Argento knowing what exactly they are looking for. If she knew what they were looking for, it would be easy for her to make things up. Argento would be given a set of coordinates. Then, she would be asked what her first impressions were, what was happening, what interesting thing comes to view, if she could touch it, and other minor things in an effort to get the information they want without revealing too much to the subject. Despite the success made in the SRV project, there was a rather critical downside to these experimentation. If a subject was not carefully guided through the SRV session, could lose their mind in the life stream and collapse into a catatonic state similar to that of MAKO poisoning.
Data on the SRV sessions were kept within folders lined with lead. Although where was no real scientific data to prove it, some of the scientists believed that lead lining would prevent the SRV subjects from "seeing" the data.
There were also field tests conducted in which scientists tested a new viewers' abilities by setting up a controlled experiment. In this experiment, the scientist knew exactly where, when, who and what target was at a certain location that they were trying to get the viewer to see. This tested the subject's abilities before they were assigned real cases. One example of such causes were SRV sessions conducted during the Wutai War. SRV subjects, like Argento, were used to uncover the location of Wutai's militia.
To the Deep Ground scientists, this all seems so harmless…
However, the SOLDIERS used in the experiment no longer got benefits. They could not take leave to go home and see their family and friends, and they begged to go back to straighten out their marital situations before their spouse left them for good. Deep Ground refused such outside contact for fear of hurting the research. Therefore, those SOLDIERS who were subjected to the SRV project also suffered from the loss of their families. Marriages died, they could never see their children again, they lost their friends, and they no longer understood what was happening in the outside world. They were prisoners, and they were going insane from the desensitization. Some felt that there was no way to escape, no where to go, and nothing they could do.
It was hopeless...
Despite the success of the SRV project, the subjects started to either commit suicide or tried to rebel—whichever was easier to them. Baffled, the scientist began to drug the patients for their own safety. While drugged, the scientists brainwashed the subjects and tried to tell them everything was fine. They told them that they were playing their role...
When the Wutai War was over, the Restrictors were sent to do an efficiency evaluation to determine the sustainability of the program. In truth, the funders decided that if there was no war, there was no need to waste money on these SRV 'psychics'.
The project was terminated. What happened to the test subjects, afterward, remains unknown.
Argento was able to survive such madness because other members within Deep Ground found another purpose for her. When she was in SOLDER, she made her own weapons, and was able to look at someone and give them a weapon suited for them. The Tsviets needed such talent, and Argento was happy to oblige. Being given such a task allowed her to meditate and keep her mind clear from the side effects of the SRV project. The colored Tsviets received their prized weapons from her, and she was allowed to live.
Later, Argento decided to test the strength of the Restrictors that bound her there. She tried to escape by seeking out security holes by using her ability. Her plan failed however, and she was caught. In a fight that followed, she was stabbed and nearly beaten to death after the Restrictor paralyzed her. It was her punishment for trying to defy her wardens.
Barely alive, one of the Tsviets snuck Argento into a medical ward, where there she was introduced to a wheelchair-bound cyberneticist called Dr. Gram. Broken and vulnerable, he stitched her up—much to her dismay. By this point, depression had sunk into Argento. She came to think that living the rest of her adult life in this place was worse than death itself. However, Dr. Gram wanted her alive. Despite her pitiful protest to let her die, he continued to stitch her. When she asked why he was treating her, Dr. Gram's only response was that he "Required her assistance."
Later, Gram told her that he would help her escape the Restrictors' control, but she had to help him walk again. Argento agreed to this, and soon, she found herself assisting Dr. Gram as he performed surgery on his own crippled leg. Then, with his direct knowledge and help, he slowly fed her information about the inner workings of the control chips implanted in their heads. Aegento soon learned that that Dr. Gram had been among the scientists that had developed and implanted the chips. It was Dr. Gram's inside intelligence on the chips that Argento later relayed to Shelke when she and the other Tsviets started their rebellion to escape Deep Ground. The plan consisted of her scanning crowds for potential members of Soldier who could end up in Deep Ground as Tsviet status. Shelke would then send out a virus, so that the chip implanted in the back of the newcomer's head did not do as it was designed to do.
This chip was the whole reason that those kept within Deep Ground could not escape in the first place. The Four Restrictors had power over the SOLDIERS, and only had to activate the chip to make would-be rebels submissive. If the virus could stop the chip from activating within a new member, then the new member could kill the Restrictor and disguise themselves as the Restrictor to take his/her place. It was a viable plan, for nobody knew what the Restrictors really looked like. The plan had to be implemented four times in order to replace all four Restrictors. Once the Restrictors were replaced, Shelke planted false memories into this person's mind in order to make them want to have revenge against the other restrictors. All the while, Argento acted as a guide and tutored to this 'new member'. Weiss, Rosso, and Sable were also in on this plan, and helped to watch out for the new potential person and 'protecting' them along the way. The plan succeeded. However, with a corrupt Weiss, things turned for the worse. Meteor fall had stopped Hojo's virus spreading in his body, but only momentarily.
Just before Meteor Fall, Gram tried to convince Argento to join him in escaping through all the chaos. Argento refused, preferring to remain behind and help the others escape. Gram left without her, and Argento continued with the plan to destroy the Restrictors with Shelke and the Tsviets. Because she chose to stay, Argento was not able to leave until after the WRO crushed Deep Ground. Unlike Shelke, who was able to roam freely, Argento was held in containment in a WRO holding cell until they were sure that she could live her life 'normally' with society.
Free at last, Argento came to live in Gongaga, where she now owns her own weapon shop. She uses and sells scraps salvaged from the reactor, there, to make weapons of the best grade.