Post by michimoro on Jul 12, 2010 4:59:50 GMT -5
"There's one crucial difference between you and me, my friend: I still view them as patients."

History/Background:
Nidavel was the original name of a city and seaport that was once encompassed the Icicle Continent's southernmost coast. Those who lived in Nidavel were part of an advanced—by comparison—maritime warrior culture that often raided and pillaged other coastal villages. Due to the brute violence of their attacks, stories that later developed that referred to the Nidavellians as "monsters of the sea, born from the Ancients who had turned away from the Planet." When a natural disaster ended up completely destroying Nidavel with earthquakes and tidal waves, locals thought of it as the Planet's punishment for their evil. However, such stories tend to be born from exaggerated misconceptions about nature.
To this day, the port's ruined dock still exists; however, the town is now nothing more than an archeological dig site called Bone Village.
Gram, although born in Junon, is a descendant of the survivors of Nidavel's destruction. Due to the rumors that surrounded Nidavel history, there was a time in which Professor Hojo had theorized that Gram was a Nida-Ancient—a term used by historians to refer to both expelled Cetra that had assimilated into Nidavellian society and children born from women who were raped during invasions.
Orphaned as a young boy, Velent Gram was raised by his big brother, Egil Gram. Despite being brothers, Gram never really knew Egil that well—the older sibling had always been off to sea. Regardless, after the death of his parents, Gram joined his brother and became the youngest member of his brother's Private Naval Company. While there, he was trained to be their Tactical Materia Specialist. Living among his brother's PNCs, Gram underwent a grueling training regimen that consisted of his eccentric bastard-of-a-brother randomly ditching Gram in the wilds with only a hunting knife and an unmastered Enemy Skill materia to keep company. To this day, Gram could never figure out what his brother meant for him to learn by ditching him like that—other than a trial-by-fire lesson in basic survival techniques while he tried to level his Enemy Skill.
In his mid-teens, Gram started interning with the ShinRa's R&D department. Showing an uncanny knack for tinkering with equipment, he ended up field testing experimental technology... with sometimes disastrous results.
There was an incident where he was part of an escort and bodyguard mission to Round Island—lead by Professor Hojo—that soon went downhill. Due to what was later theorized to be an ancient booby-trap, the surviving members of the expedition were forced to abandon the mission and return to Midgar. During this mission, Gram was heavily inured by a booby-trap, and rendered comatose until after the ship's return to Junon (see RP sample, below).
In his late teens, Scarlet offered Velent a future with ShinRa, should he choose to come and work for them. Having a rather juvenile crush on Scarlet, he accepted the offer and left his brother's company to continue his education toward mako-based biomechanical engineering. Using a work-study scholarship granted by ShinRa's R&D, Velent attended Midgar University while working part-time for ShinRa. Furthermore, after attaining his MD-PhD in biology and mechanical engineering, he was hired full-time by ShinRa as a cybernetics researcher at their medical research facility, Deep Ground. This later allowed him to be among the scientists who developed and implanted the control chips used on Deep Ground Soldiers to instill loyalty toward the Restrictors.
(This image is not made by me.)
As one of Professor Hojo's students, Velent became highly unscrupulous as a scientist—and as someone who came to like machines more than people, he had little issue to take against experimenting on human patients during his time in Deep Ground.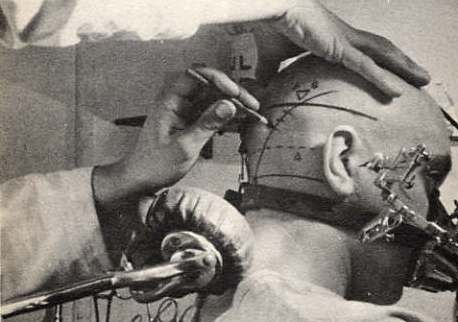 (Image not mine.)
Velent may have justified h actions by saying that the research conducted within Deep Ground was good for the advancement of humanity. What innovations they made would later apply toward the benefit of civilization. For example, we would not have canned food if it was not first developed by military forces as a means to preserve large amounts of food for armies.
To him, the end justified the means.
That view changed when he had an affair with a female patient who became pregnant. Facing the realization that his own child to meet the same fate as other children born within Deep Ground, Velent defected and tried to escape with his lover; however, the escape failed. Velent was crippled in the capture, and imprisoned within Deep Ground.
(Not drawn by me.)
During his imprisonment, Velent came to regret his act of rebellion. Had he not acted so impulsively, he would have remained in a position of influence. Furthermore, in time, might have been able to do something produced toward his lover an child, rather than ending up as a crippled prisoner helpless to do anything.
What good are acts of heroism when, in the end, they get you nowhere?
Then again...
He would not have been in that situation, in the first place, if he never had that idiotic affair.
And so, he remained imprisoned for several years. During this time, he still worked for Deep Ground as a cybernetic researcher. However, he was under constant supervision and could no longer leave the facility. While detained in Deep Ground, one of the projects that Gram had helped work on was the Synaptic Network Drive Helmet; specifically, the hardware components for the helmet's electroencephalographic sensors. He also developed the MAGUS Sisters, which remain within his Deep Ground lab to date.
It wasn't until the distraction caused by Meteor Fall that Gram could escape. Using the confusion as an opportunity, Gram fled the Deep Ground facility through the air ducts, and then sewage system. Lady Luck was with him, that night, and he managed to escape before Deep Ground was sealed off. Since his escape, he's been working as an underground cybernetics surgeon who designs and grafts weapons-grade prosthetics.
To this day, he does not know what happened to his lover or their child.
(Image not drawn by me, but coloring was altered.)
Name:
Dr. Velent Gram
Alignment/Affiliation:
Deep Ground Military Doctor. Currently AWOL.
Age:
40
Race:
Race: According to Deep Ground records, Velent was suspected of being an Ancient. This was later dismissed due to lack of viable evidence.
Birthplace:
Junon
Appearance:
Gram is 5 feet 10 inches tall, weighing in at 160 pounds. His dark black hair is starting to pepper with gray, and his skin is pale from his years spent underground. Gram's cyan eyes are often closer to pewter—a possible sign of a man suffering from the effects of extended mako radiation. Due to an old injury, he walks with a limp.
Personality
: In his teens, Gram was a total nerd who liked to tinker more with machines than girls. As a wiz-kid, he was a bit of a distant loner—always filled with thoughts over this or that. He kept to himself, unless he was called upon. Usually clueless in social conversation, references to pop culture was lost on him. He also tended to take words very literally, often missing subtext. For all his intellectual aptitude with science, he was a social idiot.
During his years spent in Deep Ground, Gram had lost much of his childhood cluelessness as he matured. He became colder and more cynical. Although he is not an evil man, per say; he's not that good either. In a world that's harsh, one must do harsh things to survive—that's been his philosophy for a long while. His redeeming trait might be that he's fiercely protective of those he loves—too bad they are all dead. Now, he's a lonely man who drowns himself in booze and women.
Regarding Velent's spiritual beliefs, he no longer has any. In a world of magic and monsters, he's probably as close to an atheist as one can get. He would attribute things like the Life Stream toward nothing more than a superstitious mumbo jumbo. To him, Mako would be just another item on the periodic table—one placed between Nethicite and Oxyale (See Periodic Table of Imaginary Elements
www.russellwalks.com/PTOIElarge.html
). Anything unexplainable, to him, is nothing more than a phenomenon to with a plausible hypothesis has not yet been developed. He believes that the spells that people are able to cast with the aid of materia are nothing more than forms of energy manipulation. Although he does not have a concrete explanation on how materia interacts within humans, he'd suggest looking to the brain as a starting place.
Due to Gram's rather empirical outlook on life and on the planet, he's never been able to tap consciously into his latent Ancient abilities (see History). He may sometimes get a sixth sense or gut feeling about something, but then he dismisses it as indigestion. In fact, it's very likely that he doesn't know about his own Ancient roots. As far as he knows, he was born a fisherman's son in Junon.
Abilities
: Based on the Blue Mage class, Gram was a Tactical Materia Specialist capable of adapting to scenarios that require skills in both ranged attacks and close quarter combat. He is more resilient than most exclusive magic users in terms of defense, and can hold his own in a fight with moderate success. However, as a hybrid melee-mage, he's not nearly as skilled in combat as a trained soldier, or in magic as an experience materia user. This is a case of him being akin to a "Jack of all trades, master of none." When it comes to fighting, Gram's true talent lies in his aptitude for quickly learning and implementing new magic skills through the aid of his Enemy Skill materia—which he had mastered over the years. Unfortunately, outside his Limit Break, using learned enemy skills are the extent of his magic abilities. He doesn't really keep any other materia on hand, except a Restore and Sense. He did train in swordsmanship as a child, specifically in the use of curved blades; however, he is horribly out of practice and out of shape. The only blade he's really skilled at, anymore, is a scalpel. Due to a crippling injury that had left Gram with an amputated leg and wheelchair bound for several years, Gram had changed to carrying a gun rather than a sword; however, he's no sharpshooter.
Weakness:
Although Gram has acquired a prosthetic leg to restore mobility, he still walks with a limp. This leaves him as a slow moving target that is susceptible to ranged attacks. He's also an alcoholic who's sauced more often than sober.
Resistance:
He is resilient against, but not immune to, magic-based attacks. This allows him to survive damages long enough to learn enemy skills.
Summons:
MAGUS Sisters (DOG, MAG, RAG) – Experimental MakoTek Cybernetic SOLDIERS built by Gram during his later years spent as a Deep Ground bio-mechanical engineer. The MAGUS Sisters were built from the bodies of three fatally injured SOLDIERS. With the aid of MAKO infusion and artificial organs, Gram could preserve their brains and spinal cords. Kept in a state of homeostasis due to this, Gram used the three women in his cybernetic experimentations. MAG was the first to be completed. The bulkiest of the three, she functions as a medical devise capable of assisting Gram in surgical procedures. DOG, the second to be completed, was equipped for defense and tactical support. Her exoskeleton shell is capable of reflecting magic-based damage. RAG was the final MAGUS Sister to be completed. As the smallest, she is fast and agile. Slotted with materia, she is capable of casting magic. Their defense and attack program is called Delta Attack – wherein DOG guards the three, MAG provides restorative support, and RAG casts magic.
(This image is not made by me.)
Currently, they operate as a security system that guards Gram's Deep Ground laboratory. Unfortunately, since Gram has fled Deep Ground, he does not have access to them. However, since they are tied into Deep Ground's Network, they can be remotely accessed through a Synaptic Net Dive—a Virtual Reality Access Protocol that Gram is incapable of using, himself, without the aid of a PROXY.
(This image is not made by me.)
Weapons
: Enemy Skill (Mastered), 9MM Sidearm, and a Bag of Surgical Equipment.
Limit Break:
White Wind – A healing spell that restores health based on the amount that amount that Gram has. It also lists almost all negative statuses.
* * * INTRO and RP SAMPLE: Rated M for Suggested Adult Content * * *
((OOC: This is also doubling as a background story. I won't be dialogging for the Non-Gram characters in actual RP posts unless authorized.))
"Bloody near freezin' me ass. Why 're we out 'ere anyway? And in winter! Was supposed to be on leave, 'ikin' through Cosmo wif me lil' bird, abaht now."
"Impromptu service. Such is the length through which a Consultant extends their support to an important client: Your Satisfaction is Our Mission," was the gutturally accented reply of an adolescent voice that emerged from underneath the fur-lined hood of a standard-issue cold weather parka—a parka that had, at some point, apparently devoured his lanky frame.
"Consultant, huh," grumbled the teen's companion, "Is that supposed ter be the new PC name for mercenary?" He was muscular young man, in his mid-twenties, whose broad and scruffy appearance seemed to resemble a wild bear more than a man—or, at least, a blond lumberjack in flak jacket. The flannel shirts that he often sported, when off the clock, certainly didn't help to present an alternate image.
Prior to the man's approach, the seventeen-year-old youth had been listening to the cracking groans of the frozen sea while leaning upon his elbows against weather deck's starboard guardrail. An echoing drone of breaking ice was caused by the ship's armored bow as it cut through the frozen northern waters—a forward momentum made possible by jetting water through a high-pressure nozzle mounted upon the bow's retrofitted gun turret.
The teen shifted his weight from his position against the guardrail and turned toward the older man. A rosy-cheeked and red-nosed face, which was flushed from the chilling wind, peeked through the tightly pulled fur. Hooded eyes, that were a peculiar hue of pewter, thoughtfully watched the older man.
"Perhaps," the teen licked his chapped lips before continuing, "After all, with enough Gil, any job is our job… Even if it is bodyguard for Shin-Ra funded expedition." It seemed that as far as the he was concerned, Shin-Ra Manufacturing's involvement was reason enough for any odd-job.
"Damn upstart. We ain't no babysitters," the man grunted, "Couldn't they send wahn of their own ships?"
"Not likely," the teen shook his head before he crossed his arms over the railing and set his chin upon his forearms. It was a lethargic posture that stood at odds against the articulated speech that followed, "Even with how good they advertise their manufactured products to be, their ships are not designed for Norz Pol waters. Not like the privateer vessels and not like Hervor. This is, after all, the only authorized freighter currently in operation with a functional cavitation apparatus." The teen's lips pulled into a smirk that oozed pride, "Without that, or the acoustic compression harmonic ranging and detection system, their ships cannot not make it this far."
"The acousto-wot?"
"The acoustic compression harmonic ranging and detection program…"
The man blinked incomprehensively the kid, "And… What's that, exactly, in 'uman words?"
"Human words?" The boy's brows furrowed momentarily, "Oh… You mean Laymen's terms… It's… Uh… The sensory program that was developed for sound navigation and ranging… The echo distance measurement device… You know, SONAR? "
"Ah! SONAR?" the man's eyes widened in recognition, "Why didn't ya jus' say that, then?"
"I thought I did…" The teen blinked in confusion before he shook his head. "Anyway, Mister Wilder, I do not think it will be that bad an excursion." The teen stretched his arms outward before stepping away from the guardrail and stuffing his gloved fingers into his pockets. He turned toward the crew, as well, and smiled, "The Boss said that we need only meet just one objective during expedition. And then, we go back. It will be, how they say, piece of pie."
"Ya mean piece o' cake?"
"I beg pardon?" the teen blinked at Wilder.
Wilder gave a short, boisterous laugh and waved his gloved hand dismissively, "Forget it."
The teen gave a quick nod of acknowledgement, before he turned his gaze back toward the chunks of broken ice. He watched in silence as the scenery slowly drifted past the ship.
Wilder grunted while he reached into one his right-side jacket pockets to retrieve a Malboro brand cigarette and lighter. He lit the end of the rolled paper and took a long drag. After returning the lighter to his pocket, he exhaled and turned to glare across the adjacent helipad with a bored frown. Across the deck, a small number of crewmen went about their duties. Aside from the few Shin-Ra employees aboard, he absently noted that most looked as though they were sailors hired off port at the fishing village in Junon.
The two stood in companionable silence for several minutes before Wilder finally spoke, again.
"Well, smoke break's over," he announced before dropping the butt of his cigarette into his personal ashtray. He then pocketed the small spring-loaded butt holder and cleared his throat, "I'm garn back to the Control Room before anythin' important starts fallin' off from frostbite."
"Frostbite?" The teen turned alarmed eyes toward the man as he looked him over, "Jack! Are you feeling any numbness or tingling in your extremities?"
"Figure of speech, Probie," was the Jack Wilder's automatic response, "Figure of speech."
"Oh. Got it," the teen blinked.
Then, with a roll of his shoulders, Probie—Wilder's nickname for the kid—pulled his hands from his pockets and cupped them before his mouth before rubbing his hands together, "It is cold. But… Statistically speaking, with the increase of fiends in the area, things are more likely to be… Ah… Bitten off. I read that according to the 1980 survey conducted by the Kalm Wildlife Federation, the fiends most often spotted within sub-zero climates are: Boundfats, Bandersnatchs, Ice Golems, Vlakorados, Magnades, Lessaloploths, Allemange, and Tonberrys."
Wilder blinked at the teen, before rubbing his hand against the scruff of his short beard. "A real reassurin' list ya 'ave there," he muttered.
"Oh?" Probie lowered his hands and smiled eerily while a twinkle of mischief flickered his across his grayish eyes, "But we are at sea, no? The most we have to worry about are Scutin Eyes… Well, that is, until we set foot on land."
"Shit," Wilder sighed and shook his head. "For lil' green anorak, you're a real honest-to-goddess git," he then stepped away to return to the Control Room, but paused before he gave a gruff cough and a sidelong glance to his left and right. He then settled his eyes upon Probie and mumbled, "Um, everythin's secure aahhht 'ere, right?"
"Mm hmn," After rubbing his hands together briefly, the teen closed his eyes and touched his right hand to his left wrist, where a bangle of similar make to that commonly used by Tactical Materia Specialists—the new standardized title for corporate sanctioned mages and summers alike—was equipped. At his touch, the bangle's surface emitted a phosphorous glow from the crystallized mako in which it was infused by way of intricately inlaid runes. "I Sense no threat in the… immediate area. But, I would consult the radar for—"
"'Old on na, where'd ya get that from?" Wilder's eyebrows rose into his cap as he leaned over the teen in an effort to get a better look at the bangle.
Probie's chill-flushed complexion turned even ruddier. With a jerk of his head, he turned toward the island and pulled down his parka's sleeve.
Wilder's look turned conspiratorial, if not a bit lewd, before he nudged the youth's arm, "Oh? Lemme guess. It's a gift from yer secret girl, yeah? Abaht time she made a move ter trap 'er favourite fly. Although, ain't normally the bloke supposed ter give jewelry ter the skirt?"
The teen stiffened his back and inclined his nose with a sniff, "It's not like that. She's not my girl."
"Ah 'ah! So that's 'a it is!" Wilder laughed as he swung an arm around the youth's shoulder. He made of show of looking around before he leaned in and whispered loudly, "Ya kna, ya ain't 'idin' nuffin' kid. Why don't ya just man-up and make a move? I'll even give ya sum advice on 'a ter find 'er Promised Land, if you kna wot I mean."
"No, I am sure that I don't know what you mean…" The teenager frowned in confusion, "What does a Cetran paradise myth have to do with the social interaction between males and females…" His face suddenly contorted as though he had swallowed something better, "Was that supposed to be innuendo?"
Wilder shrugged with a roll of his shoulders and eyes, "Apparently not."
"For your information, it is not jewelry. It's a… a…" The youth momentarily faltered before explaining that, "It's a Wearable prototype I'm field testing for R&D."
"What?! That spider with tits gave it to you? Shit, Velent. What'd the Director say abaht moonlightin' with ShinRa? Hell, abaht bringin' their fishy toys out into the field, even?"
"I don't know what a spider with mammary glands—not they exist—have to do with this, but they aren't fishy toys. Brother… Captain Egil knows this. They're MOGWare, and they let me modify this one," the teen protested with an indigent sniff. "I'll have you know that this one's stable."
Wilder gave an exaggerated groan of frustration, "Stable? Ya said that the last time, before I bloody near lost me 'ead."
"You exaggerate. It was only mild concussion, if that." Probie then gave a punctuated nod, as if to say, so there.
Wilder heaved a hefty sigh before he backed off from the teen and shrugged his hands into the air, "Yeah, yeah, if ya say so. Just keep away from me when ya decide ter use that… MOGWare thing again."
"You're just being a technophobic hick… with all due respect."
"Guess that makes ya a crackpot townie, then, wif aw due respect."
The teen folded his arms and upturned his nose, "I thought you had a Control Room to get to… or something."
"Cheeky runt. Fine, I'm garn up, now." The man sighed and stepped away from the teen to head across the helipad and toward the bridge deck, although not without giving a departing mutter of, "MOGWare, huh? Sounds like a name that a lil' kid would make up…"
"Hey!" Probie hollered at Wilder's retreating back, "What do you mean by that? I came up with that name."
"Me point, exactly."
Velent huffed as he fisted his hands on his hips and shouted at Wilder's retreating back, "I thought it was clever! Guess a meathead like you is too dumb to appreciate my brilliance."
Wilder flipped the youth off as he rounded some crates and disappeared from view, "Swivel on it, squirt."
The youth's eyes widen as he face flushed, "Get a lobotomy, you… you… ignoramus!"
*
The freighter, Hervor, was headed at 18 knots eastward through the winter's icy sea. At such a slow speed, the voyage had proven to be long and tiring for those on board. However, it would come to its conclusion soon enough as their destination, Round Island, drew near.
The topography of Round Island, with its large central crater, suggested that the island-mountain might have once been the site of a prehistoric meteor impact. However, the thick forest sighted within the crater during a fly-by survey—such green vegetation was normally unable to grow at the island's frigid latitude—soon gave rise to an alternative theory: Round Island was the location of an undiscovered mako font. Due to the treacherous terrain of the rocky cliffs that surrounded the crater, Round Island had previously remained unexplored; however, in light of the discovery of the Ancient buried within the crater at the Norz Pol, ShinRa was eager see if a similar discovery could also be found within the secluded island. Lead by the Professor Hojo, an expedition team was sent to survey the island more thoroughly. Soon, the ship would set anchor at Round Island and the expedition would commence immediately afterward. It would be a tricky endeavor, however not impossible. In preparation to traverse the island, the expedition planned to use specially bred mountain chocobos.
*
Waves crashed against the cliffs of Round Island in a cacophony of thunder. Mounted on a small caravan of chocobos, the small expedition team—which consisted of Hojo, two assistants respectively, Agent Jack Wilder, the young Probie, and an additional chocobo laden with equipment—slowly weaved a path up the cliff wherever their massive birds could find adequate footing. The trek was long and halting, but by mid afternoon, they were able to make it across the cliffs and into the crater.
They traveled onward with the plan to pass through the forest and head toward the northernmost rim where Shin-Ra's fly-by helicopter survey had reported, according to Professor Hojo, the location of a cave.
"Wot the 'ell!" Jack Wilder suddenly exclaimed after he crossed over the crest of a small hill—he was at the head of the group.
"What is it?" Hojo pushed his glasses up the bridge of his nose before he pulled his chocobo to a halt.
Wilder frowned at Hojo, "Just found the reason why the survey team didn't radio in." He then nodded his head toward his younger companion, "Oi, Probie. Get over 'ere. Ya should take a look at this."
Probie frowned as he directed his chocobo to stop alongside Wilder, "A look at what?"
After turning toward the clearing ahead of Wilder, the teen's eyes widened. In a rush of movement, he dismounted his chocobo and ran forward while pulling back the fur-lined hood of his parka so that he could see more clearly. Coarse, ebony hair fell about his head in tousled mess—plastered to his head with sweat in some places, tufted out in others.
He skidded to a halt within the clearing to see debris and scorched trees. Three battered bodies lay in bloody heaps across the forest floor. Ahead of the corpses sat the broken cockpit of a helicopter. On its side was the ShinRa logo.
The teen sprung toward the nearest body and knelt. Finding that rigor had not yet set in, and that the body was still pliable, the youth carefully rolled the man onto his back and felt for the carotid artery. There was no pulse. Biting his lower lip, the teen splayed his gloved fingers flat against the man's chest. He then bowed his head and focused on channeling the energy of his Revive materia. The silent invocation of Resurrect drifted through his mind in the form of disjointed whispers while he called upon the spell. When the warm felling that usually accompanied the casting of a revival spell never came, the teen's eyes narrowed and his brows furrowed in confusion.
"'Ey… wot 're ya doin'?" he heard his partner call out from somewhere behind. "Look at them. It's… too late. Didn't your medic trainin' teach ya when ter call it quits—"
"There's still time!" The youth insisted while shaking his gloved fingers, "Lifestream dissipation has not yet started. With mastered materia, there's still a chance for life resuscitation." He then returned his palms to the man's chest and clenched his teeth in determination. Once again, he pulled upon materia's current.
Nothing happened.
"Resurrect, damn you!"
Frustrated, the youth's hands clenched into fists and he ground his teeth. He could still feel the materia's current building like water behind a dam, needing a path to follow lest he burst. It was a dangerous condition to be in, and if he did not find an outlet soon…
Probie stood abruptly into a hunched posture and pressed the pads of his fingers against his temples, concentrating his will into the activation of a different materia. He felt the matera's energy as it coursed through his veins and stimulated his nerves, causing his hair to stand on end and his teeth to tingle. His breath started to fog with each exhale and a chill ran through his fingers. Extending his hands, the youth pushed the force of the spell outward…
…and stumbled back with a yell as pain shot through his arms. The spell had backfired.
"My materia…" The youth gasped while he collapsed to his knees in surprise. He looked visibly shaken while he stuttered, "S-something's wrong. They are not w-w-w-working. Why are they not working?"
"Silence?" Wilder guessed aloud. His narrowed baby-blue gaze shifted across the area, looking for any sign of what might have caused the problem. However, all he saw was the crash site and surrounding forest.
"I… I doubt it," the youth shook his head while he clenched and unclenched his numbed fingers in an effort to get his blood flowing. "The Silencing affliction doesn't feel like this, a-and I do not know how I would have caught it... And… I'm on a peptide to guard against things like that," the teen then took a deep breath while grazed his shaky fingers against the small silver stud in his left ear. It was a habitual action he'd fall into when stressed.
"No..." Probie cleared his throat, "No, this is something else."
Hojo glanced briefly toward the dead before he settled his narrowed eyes upon the youth. The professor frowned while he considered the young materia specialist's words. His eyes narrowed in suspicion.
That boy…
"Pull yourself together and calm down," Professor Hojo instructed, unsympathetically. "It's just the survey team. Incompetent fools, they were, to crash during such a simple mission; they should have been more diligent. Now, come along, boy. We have much work to do."
"But…"
"Leave them!" Hojo interrupted with a bark. He then pulled his chocobo's reins to direct the bird forward, "We've no time to worry about trivialities."
"Professor!" The teen gasped as he struggled to pull himself to his feet once again, "I cannot allow this expedition to continue when there are dead—"
"Yes, you can," the professor responded with hard stare and stern voice, "They are an issue for ShinRa to deal with. You, on the other hand, have more pressing matters to worry about... Understand? "
The youth frowned at Hojo and his brows furrowed, "I do not like this, Professor." The teen then ran his hands through his hair, to push back the wild mop while he stared at the three dead men. "We shouldn't leave them like this. We need to take the bodies back to the Hervor."
Hojo sneered at the teen, "What? Weren't you listening to me? The expedition must continue. Its success is what you and your partner were hired for…"
The teen looked over at his partner, who shrugged. "He 'as a point, Probie. This ain't our business, and we have a job to do. 'Your Satisfaction is Our Mission.' Ain't that what ya told me?"
"I know, but…" The teen looked up toward the tall cliffs and then at the undissipated dead. He then unconsciously touched his arm-ring while he seemed to grasp for a reason to forestall the expedition, "I… Something is strange about all this. First the dead, then my materia... It... Very much concerns me... It reminds me of something I read about in a book... From the old nautical log books... Accounts about a marooned ship of ancestral time, now guarded by the ghosts of its captain and crew. It is said: Those who seek treasures lost never return."
Hojo looked at the teen in annoyance, "Such cliché wives' tales about maritime ghosts have no place in an age of modern science. I'm sure there's a reasonable explanation for the condition of your materia."
"It's not wives' tales, it's documented hist...or...ry..." the teen trained off as he realized that nobody, especially not an man like Hojo, seemed willing to listen. To a scientific researcher only interested in fact and observation, the questionable accounts of long since dead pirates and mongrels held no validity.
The teen sighed.
"Very well," he conceded and stepped away from the corpses. Probie then marched his way back up the hill. Once mounted onto the chocobo's back, he passed Hojo a steely gray look, "We continue north, Professor. Be sure to keep up."
"Ah! That's more like it, my boy!" The Professor returned the teen's disgruntled pout with a triumphed smirk a smirk, and continued with a no-so-veiled threat, "However, I have half the mind to file a complaint, about your behavior, with your supervisor upon our return." Hojo then narrowed his eyes and spoke his next words in an incredulous tone, "So so some professionalism, Tactical Materia Specialist: Velent Gram."
Probie grit is teeth and tightened his grip on the chocobo's reigns in anger; however, he said nothing as he spurred the chocobo forward and ahead of the others.
"Guess that means I take rear guard." Wilder shook his head before he moved to guard the tail end of the group.
It had been a too-long voyage. Naturally, they would start grating on each other's nerves after keeping such close quarters for so long, especially those two—a seasoned bio-researcher and an inexperienced makotek wiz-kid. Since the onset of the voyage, this had set the volatile stage for a pissing war set on proving who had the higher IQ. After suffering the collateral spray of far more geekspeak than he ever wanted to hear, Wilder was certainly looking forward to a strong drink and a pretty face once this job was over.
The team continued toward the northern cave's direction through foliage that was ever increasing in its density. The air smelt thickly of flowers and the air grew more humid. Temperatures rose the further into the forest the expedition members traversed, and soon they found themselves shedding their parkas to avoid sweating. By the time they reached their destination, the sun had sunken below the western rim of the crater. The expedition team dismounted and secured their chocobos before Hojo's assistants set about unpacking the research equipment while the Professor and the hired consultants moved ahead to scope out the cave.
Upon entering, they discovered that the cave lead to nowhere.
"Damn. Aw that travel and aw there is ter sha' for it is a dead end," Agent Wilder grumbled as he stood at the cave's entrance.
"Ah! Not at all." Hojo commented as he wandered forward into the cave to stand close to one of the walls. He adjusted his glasses while he examined a cluster of exposed veins within the cave wall. They were green and dimly luminescent. "This cave," Hojo's upper lip pulled into a frightening smile, "Looks like its rich in mako deposits. We will need to call for an excavation team."
"Oh," was Wilder's response as he blinked.
While glancing toward the shadows at far end of the cave, the teen noticed a lone stele that stood almost a little over one meter high. It was topped by a convex curve that encompassed a series of circular registers. Inlaid upon the surface was a series of hieroglyphic imagery similar that seen among the old ruins scattered about the Woodlands. He remembered seeing such writing, long ago, when his brother stranded his younger self the area for a week—his brother called, "Much needed survival training."
The teen shuddered at the memories, be he then looked toward the center of the registers where a smooth spherical crystal was embedded. Its translucent surface resembled that of material—only larger than any he had never seen, before.
Is this a Huge materia?
Curious, the teenager stepped closer to the monolith. As he ran his fingers along the stone's strangely warm surface, disjointed images and unintelligible voices rippled unbidden through his mind.
...an explosion that turned night into day… the ground quaked… the forests burning as fire fell from the heavens… screams filled the air… the taste of sulfur as tephra filled his lungs…
Fighting a wave of nausea, the youth took a step away from the stele and shook his head to clear his mind. He blinked a few times to refocus his vision before he set his gaze upon the runic carvings once again with a look of confusion, "What… the hell was that?"
After inhaling deeply, he narrowed his eyes as he stared critically at the monolith. It was then that he noticed the monolith's materia-like sphere had started to glow.
"Uh-oh…"
The Professor's nasal shout rose suddenly from behind the teen, "Foolish Boy! What did you just touch?"
However, the shout was lost to the teenager when a dissonant hum filled his ears. The young mage watched the while the glow bled outward from the sphere as it filled carvings with what the youth guessed to be raw mako. Lighting a pattern upon the stone's surface, the mako then sprang outward and across the cave floor to form an array of glyphs. The youth's eyes widened when the cave started to tremble with a loud groan. At the same time, he felt a sudden and strange weight descend upon him.
Gravity?!
The teen collapsed to his knees with a voiceless gasp before he fell bonelessly to his side. His wide-eyed gaze fell upon the others to see that they were crouched over while their hands covered their ears and their faces contorted in pain.
Wilder was bleeding from between his fingers and Hojo was…
Hojo was crouched with an expression of strained surprise while he looked toward the teen. The teenager watched while the Professor slowly drew his sidearm with an unsteady hand—a 9mm pistol that he shakily aimed past the teen and toward the monolith.
Velent Gram's eyes widened while Hojo released the safely and squeezed the trigger.
Everything turned hot and white…
And then darkness took hold.
*
Doctor Velent Gram awakened with a jolt, the content of his dream fading behind the pain of his hangover. Pressing the heel of his palm against his forehead, he groaned. A movement next to him caught his attention, and he shifted his gaze to see the nude backside a young barfly that he hazily remembered picking up last night. A skinny-asses blond, she was; but for the life of him, he could not remember her name. Whether she was just some follow drunkard or a hooker—he did not know. Hell, he couldn't even remember of she'd been any good.
I should lay off the cauctar juice, he miserably reminded himself, or it will be the death of me.
Gram quietly released a rather somber chuckle.
Like it matters. Be it by the fruit of my hubris or the corrosion of my liver, death is inevitable.
Pulling his hand away from his face, Gram looked up to stare blearily at the room's white popcorn ceiling—a ceiling that was intimately tinted red by an obnoxious neon sign that was located just outside the nearby window.
With a sigh, Gram sat up and draped his legs over the side of his lumpy bed. Using the bedside nightstand for support, he stood. And after some time rooting around the floor for his pants, he found them and pulled them on. Belt unaccounted for, he sighed and made for his drab gray overcoat, instead. After pulling out a pack of Malboro and a lighter, he padded barefoot toward the room's door and quietly stepped outside.
He could see that he had ended up on the second floor of some dingy motel in Midgar's Edge—south side by the looks of it. Across from him, a red neon sign that read "Bullmotor Motel" flickered off while it buzzed loudly. Across a street was a Magic Pot Bistro that was, unfortunately, closed at this hour. With a grumble, Gram stepped forward to lean against the second floor's cold metal railing. Pulling out a cigarette out of the box, he dangled it from his chapped lips while he lit the end. Then after taking a long drag, he pocked his lighter and leaned his elbows against the railing.
It had been many years since he last step foot near Midgar—not a foot since he had fled Deep Ground. Squinting toward the ruined acropolis that stood beyond the city limits of Edge, Gram smiled grimly.
What poetic justice, this is, to see the symbol of Shinra's power turned to nothing more than heap of scrap metal.
But…
He had yet to know if Edge would be any better.
It was very early in the morning, and the city had yet to fully awaken. Yet, that was not to say it wasn't without all life.
Gram took another inhale of his cigarette while he gazed sleepily and half lidded across the motel's parking lot. Sporadically, a car would roll on by with their too-bright headlights and their too loud engines. Somewhere, he could hear a baby crying into the dead of the night, while somewhere else, an ambulance's siren warbled. Exhaling, Gram's gaze follows the trail of cigarette smoke upward to see a storm brewed on the horizon. Lighting flashed and, out of childhood habit, Gram counted the seconds…
"One one thousand, two one thousand, three one thousand…"
…until he heard the crackling of thunder. Gram closed his eyes.
The wind chilled his bare skin while her salty breeze reminded him of days long gone. Hours spent at sea on his brother's ship, leaning against the weatherdeck's rail while he listed to the roar of the sea's waves as they crashed against the rock face of nearby shore. He'd take in the song of seagulls as they flew over head, as well as the whispering chatter of shoreline trees while their leaves rustled in the wind, and if he listened hard enough he could almost swear he understood what they meant to say—
Gram hacked a cough when he inhaled the smoke of his cigarette wrong. Wheezing, he thumped his chest with the flesh of his palm, working to get his breath back again. Once recovered, Gram scowled at his cigarette, before stubbing it out against the railing. After tossing the butt over, Gram turned to limp back into the motel room.
Glancing toward the bed's occupant as he quietly closed the door, Gram sighed.
Best leave before she wakes up…
He didn't really want to deal with the aftermath of her waking up. A despicable act, really, but he couldn't find it in himself to care. Any woman willing to get drunk enough to sleep with a stranger shouldn't expect him to be there the next day…
Yeah…
Lifting his right hand to push his grimy dark hair back from his face, Gram then cast his gaze about the dim room while looking for the rest of his clothing. His black and weatherworn rucksack was half wedged under the bed. He pulled it out and set it against the door before looking for his shirt. Finding it draped over a lamp, he plucked it from its perch and pulled it in. Quickly working the buttons and tucking the shirt into his trousers, Gram then limped around the motel room to recover his belt, socks, and shoes. The belt, he found half hidden under the bed, not far from where his rucksack was. His shoes were near the door and his socks…
Well, he couldn't really find his socks at all.
Resigning to the fact that he'd probably have to find some new ones, Gram decided that he might was well grab his coat and leave as is. With a nod of his head, he made his way back to where he's seen the thing.
But then Gram paused when he moved to reach for his long coat.
Not far from it was the women's handbag. After tossing a brief glance toward the woman to make sure that she was still asleep, Gram knelt next to the handbag. Unsnapping the clasp that held it shut, he opened the handbag to find a small wallet, make-up compact, tampon, eyeliner, 9mm pistol, and sunglasses.
Blondie's packing heat…
Gram bit the inside of his cheek, cutting off an urge to chuckle, before his gaze drifted back to the woman's wallet.
Huh...
Ignoring the protestant fluttering in his gut and the whisper in the back of his mind—one that told him that he shouldn't be digging through a women's private belongings in the first place—Velent reached for the wallet and pulled it from the handbag. Snapping the wallet open, he started thumbing through its contents—a store gift card, pharmacy receipt, identification card, pilot's license…
Definitely not a hooker.
…and a fifty gill bill.
Gram paused when he came to the bill. Grasping it between thumb and forefinger, he pulled it loose. A frown pulled at his lips as he ran the pad of his thumb across the paper's worn surface. His pewter eyes drifted between the women on the bed and the bill in his hand.
Black market surgeon though he may currently be, such jobs were so far and few between that Gram still barely managed to make ends meet.
And…
He had wasted his last earnings on an overpriced bottle of Cauctar Tequila. Suffice to say, he could really use the money. The woman was sleeping like the dead, and it would be so easy to take her money…
Gram narrowed his eyes as he looked back at the bill.
So, was this how far he had fallen? Wanting to steal money from a one-night-stand…
He used to be better than this. He… is still better than this.
For now…
Suppressing a sigh, Gram clenched his teeth as he returned the bill to the women's wallet, and the wallet to her handbag.
He'd have to make his money the without stealing.
And Gram nearly wanted to laugh at that sentiment. After all the vile things he'd done to people throughout his life, he suddenly decided to develop a scruple—now?
Tch.
With a shake of his head, Gram went for his overcoat and pulled it on. After making sure that he still had his glock handgun in possession, he made his way toward the dingy motel room's door and picked up his rucksack.
It was time hit the streets, and go score some coffee.