Post by ariocharthurian on Dec 1, 2010 5:43:41 GMT -5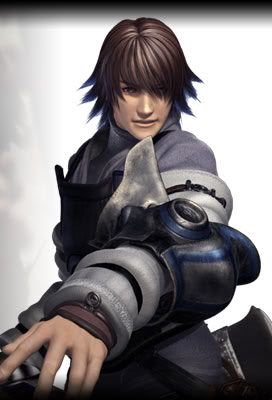 Name: Arioch Arthurian
A.K.A: Arioch/Ario
Romaji: Ariochi Aruturian
Alignment/Affiliation: AVALANCHE
Birthplace: Unknown
Date of Birth: 18 August
Age: 24
Height: 184cm
Blood Type: O
Race: Human
Family: Aria Symphonia
Appearance:
Arioch had a body as a warrior. He had dark brown hair and brown eyes, he is often seen wearing heavy armor around as a symbol as a warrior. Arioch is a man physically in his late 20s, and stands roughly six feet tall. As a warrior, he never left his sword behind. His sword is his companion of life, and he also wores a necklace around his neck, which is a gift from his sister, Aria.
Arioch appears to be muscular, to prove that he trains a lot to become a strong warrior. The armor he is wearing is mostly blue, since he loved the color so much.
Personality:
Arioch is a hot-tempered man and also stubborn. However, its his stubborness that caused his spirit high and he never gives up. Arioch possessed a beautiful singing voice and master of the insturments. Though he is sometimes sincere and honest, his heart is weak and relies on his younger sister, Aria.
Arioch had a voice, until one unfateful day, he lost his precious voice and became mute. Since he is mute and couldn't talk, he shows many kinds of expressions, but they were mostly fierce and angry.
Arioch is actually a Dragon Master, and because he is mute, the Dragon took his place to speak for him. Eversince Aria was kidnapped, his personality had change into more brutal. He would do anything to protect or save Aria, his one and only family left. What's more, he wouldn't hesitate to kill the person who harmed Aria.
He fiercely despises Hojo and Shin-Ra, since they both took Aria away from him. For some reason, it was implied that Arioch harbored incestuous feelings toward Aria. When it come to saving Aria, Arioch will show no mercy on killing people, it doesn't matter how many he had bloolusted, if is it about Aria, he would do anything to save her.
Of course, Arioch was once a gentle and a kind young man when he had his voice and Aria was with him. He is a man that values friendship, though he doesn't seemed to show openly. Up until now, the feelings is still within him, and he doesn't really show it. He tends to brush off the topic if people ask his further relationship about Aria. He had one similirity with Cloud Strife, he has soft spot for children, especially orphans. Like Aria, he had the strong will and desire to protect someone.
History:
At young age, Arioch witnessed his parents being brutally murdered by a monster that attacked their home. Arioch instantly took Aria away and lived their lives as an orphan, might as well being rejected by the citizens. After a few years they're grown up, the Hojo Research Team sees Aria as a value towards his project since Aria had a strange healing ability in her. Arioch tries to protect Aria from being kidnapped, but he failed instead. Outraged, Arioch invades Hojo's Research Lab to retrieve Aria, but instead, he founds Aria is been brainwashed, and Aria couldn't remember about Arioch fully.
Arioch attemps to kill Hojo, only when Hojo used a chemical throwned at Arioch, causing him to become mute. Arioch knew he was hopeless and he falls back immediately. He gives up on life, since Aria had been brainwashed and only receive orders to assasinate. With guilt, he suicides upon seeing the current condition of Aria. Drifting aimlessly in the Lifestream, he then heard Aria cries for help. Hearing this, Arioch's strong determination had made him reborn, but he is still mute.
Arioch was raised by a warrior-family. He sets out on his journey, hoping to search and reunite with Aria once again. However, he was reborn as a mute, since the last incident with Hojo had done him so. Since Arioch had a special ability like Aria, he could summon dragons instead of healing like Aria. After years of searching, Arioch had found Aria, but the Aria he found wasn't Aria Arthurian. It was Aria Symphonia instead. Being highly suspect that she was his sister, Arioch befriended with her and discovered that she had the same necklace like him. Feeling confident about this, Arioch was about to tell Aria the past, but he found out that she was with Rufus Shinra. And as he remembers that Hojo is from the Shinra Group, he despises Rufus Shinra.
He then decided to join the eco-terrorist group, AVALANCHE to fight Shinra and retrieve Aria back to his arms.
Weapon:
Arioch is able to use any weapon such as sword, axe, lance, spear and etc. But mostly, he prefers using sword. He posses a fire elemental magic. He is able to endure deep slash and cuts, even though he was thrown away or damage, he is strong enough to sustain such pain.
He is able to run fast and attacks while running. Mostly, Arioch prefers using physical attacks than magic attacks. His sword, is extremely heavy to carry for a normal person. His sword may not be like Cloud's Buster Sword, but Arioch is able to wield his heavy sword around with only one hand.